Permission Problem
You don't have permission to do that.
Hedera Hashgraph Community Testing Program
GossipGuy
Posts: 8
mod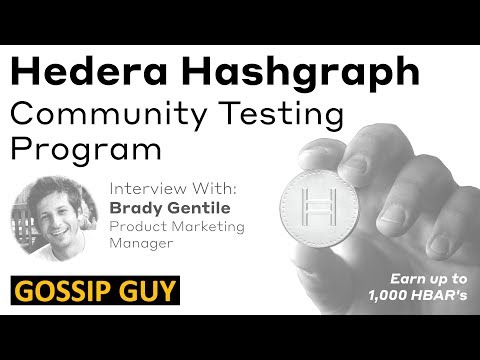 #HederaHashgraph #Hashgraph
Want to earn up to 1,000 HBars? Join me as we speak with Brady Gentile from Hedera Hashgraph to learn more about the Hedera Hashgraph Community Testing Program and how you can contribute to the testing of the Hedera mainnet. We also cover relevant topics including account setup, wallet creation, the Dailytimestamp.com and mainnet (early access) cards.
Also be sure to check out the links below for further resources:
Hashgraph Links:
What is Hashgraph?:
Hashgraph is a data structure & consensus algorithm that is fast, secure and fair.
What is Hedera Hashgraph?:
The Hedera hashgraph platform provides a new form of distributed consensus. The platform is lightning fast, secure, and fair. Hedera enables and empowers developers to build an entirely new class of distributed applications never before possible.
Video By:
The Gossip Guy – Join me as we "gossip" about the world powered by hashgraph!
"Gossip" comes from the gossip about gossip protocol that powers hashgraph.
Follow Me:
Note – The Gossip Guy does not work for Hedera Hashgraph or Swirlds nor receives any direct or indirect compensation nor opportunities for investment by making these videos. All topics are for information and education purposes.
Tagged: